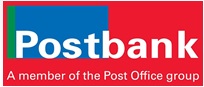 Postbank South Africa
Postbank South Africa
Postbank South Africa is a government owned savings bank operating in South Africa as division of the South African Post Office. From its beginnings 1894, Postbank today in 2013 has a network of 2,600 outlets, with more than half of which are connected to the Saswitch with access at its counter terminals as well as from 7 200 ATMs from other banks. It offers its retail customers basic transaction accounts (comes with a debit card), savings accounts and fixed term accounts (from 1 to 12 month).
You contact them through their customer service telephone number within South Africa on: 0800 535 455
Source: http://www.postbank.co.za
Postbank South Africa Services
Personal Banking
Savings Accounts
Debit Cards
Investments
Individual Investments
Savings Accounts
Term Deposit Accounts
Postbank South Africa Discussion
Q: What's needed when i want to open a post-bank account in South Africa i'm from Zimbabwe

Q: I have found my late dad's postbank books. how do I check if there is money still in his account?

Q: Hi, does postbank have internet banking / cellphone banking facilities?

Q: How can I get a joint account

Q: If I invest whit R250 000 (two hundred and fifty thou sent what will my interest be a month but it is mydauthers money she is 8 years old and have an account whit your bank

Q: Am a foreigner i used to have a Post Bank acc in year 2009 can i still activate it account number i do no longer have it again if i get paid in US$ can my money still remain as a forex acc how do i go about it please assist me if my acc is not possible to re open what do i need to open another acc.
Postbank South Africa Discussion Activity
Postbank Savings Account - Savings
Q: How do I get a statement for my savings account?

Savings
Q: Sir/madam I use post bank account...postbanj didant pay my interest..i use ro pay evry months 500 after one year i have only what I paid..postbank didn't give my interest ...plz halep me my numbar is 0607863389..and I have 3 account off postbank all account have same story ..plz get me out off thish

Deposits
Q: If you have a fixed deposit with Postbank, and you wish to redeem part of it by transferring the proceeds to the savings account, how long should the process take after submitting the redemption application form?

Savings
Q: I run an NGO and i need to open an account for it. will postbank be able to help and what do i need to open that account

Savings
Q: what must i do to open savings account at post bank